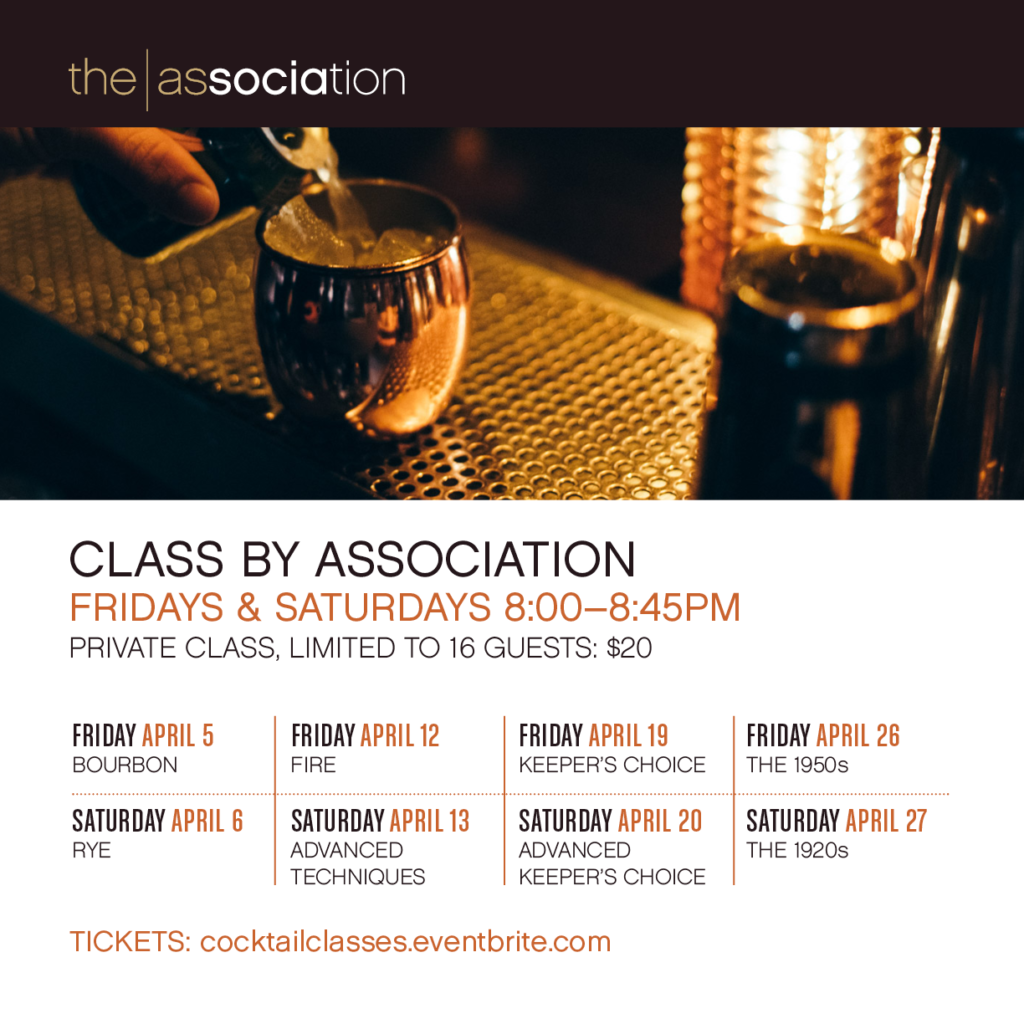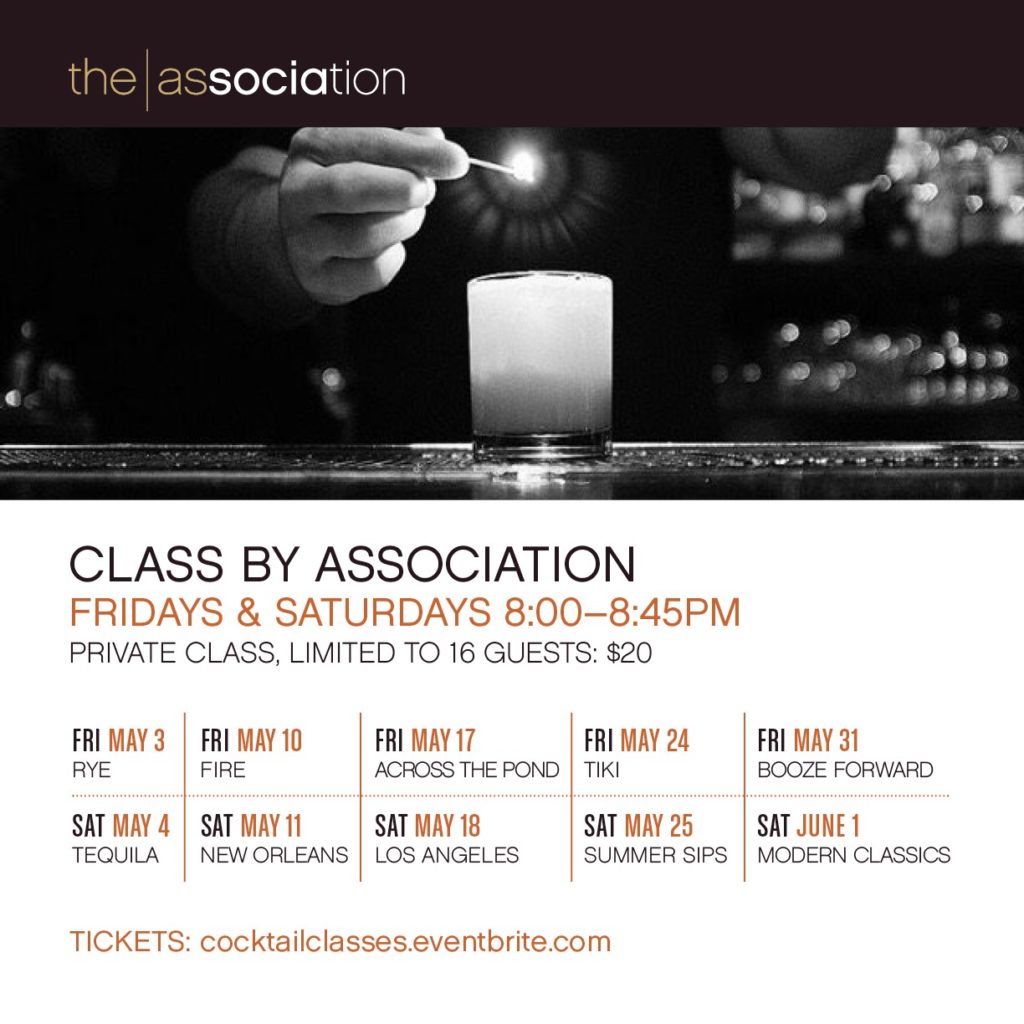 CLASS BY ASSOCIATION offers cocktail enthusiasts an opportunity to delve deeper and refine their knowledge. Classes explore bar basics, tools and techniques as well as individual spirits, their history and use in classic and contemporary cocktails.
The Association's head bartender, Scott Cushman, hosts the 45 minute classes every Friday & Saturday from 8:00pm – 9:00pm, with each class focused on different levels of expertise and topics. Saturday classes delve deeper into topics already covered in previous classes (aka: for the true spirit nerd!); Friday classes are our "basics" class. That said, you are not required to attend the classes in any particular order and both are offered in a way that everyone can follow along.
PRIVATE GROUP CLASSES Private custom group cocktail classes can be booked or reserved in advance for groups of 12 or more any day. Private custom group cocktail class pricing varies depending on the dates, times, beverage package and size of the group. To book a private group cocktail class or for more information, please email Farah at farah@circa93.com.

~ • ~
Classes are $20 per person and include:
• 45 Minute PRIVATE cocktail class
• Tasting of 3-4 craft cocktails throughout the class
~ • ~
IMPORTANT GUIDELINES
For optimized enjoyment, we limit classes to 16 seats.
Registration is required for participation.
Must be 21+ to attend.
Late arrivals are disruptive, therefore a courtesy of 5 minutes will be honored before closing doors.
Tickets are non-refundable, not interchangeable and not swapable for different dates.
For additional inquiries, please email farah@theassociation-la.com.
CLASS SCHEDULE
MARCH 2019
From south of the border right to our cocktails, Tequila has made quite a journey over the past century. Come see some of the things we do with it.
3/2: UP DRINKS
Not neat, not on the rocks, but somewhere in between. Come why we serve drinks in teh silly little glasses.
3/8: SOURS
One Half of the cocktail spectrum, these cocktails put the juice forward. Lets gulp!
3/9: AROMATICS
One half of the cocktail spectrum, these cocktails put the booze forward. Lets sip!
3/15: PROHIBITION
3/16: PRE-PROHIBITION
Before the Volstead Act, we used to drink differently. Find out how that kooky law changed drinking culture forever.
3/22: RUM
The official drink of pirates, scallywags, and roustabouts, Rum has some as long way that's being a respectable drink. Come taste the classy side of sugar.
3/23: TIKI
Rum, gin, bourbon and Brandy all have a place in Hollywood's native drink culture. Come try them all.
3/29: GIN
Take the juniper road all the way to flavor-town with this oft forgotten base. Not just for old men in dank bars anymore.
3/30: VODKA
Not since the 1980's have you seen so many vodka options. We'll be exploring vodka (Russian for little water) and it's place in Cocktail culture.
4/5: BOURBON
51% Corn, 100% American, Bourbon has long reigned in the cocktail world as the go to. Let us show you why.
4/6: RYE
51% Rye, 100% perfect for whiskey cocktails. Rye has recently regained it's place in cocktail couture, but it was the king for for a while. We can tell you why.
4/12: FIRE CLASS
Our Most popular class, Come see how pyrotechnics can not only impress your friends, but improve a drink. and maybe even light a drink yourself.
4/13: ADVANCED TECHNIQUES
Some fire, some layering, some razzle-dazzle, let us walk you through the tricks that bartenders do to make you Ohh and Ahh. then Lets drink.
4/19: KEEPERS CHOICE
What do bartenders drink? This is the class to find out.
4/20: ADVANCED KEEPERS CHOICE
What are the bartenders really working on? This is the class to find out.
4/26: THE 1950'S
When prohibition ended, Cocktails came back in a very big way. The 1950's was the height of the revival. Lets explore this decade of whiskey, gin and day drinking.
4/27: THE 1920'S
Although you couldn't legally drink in the 1920's, new Cocktails were ubiquitous. Lets discuss this time period and all the illegal activities.