THURSDAYS, 9pm-10pm (NEW)
FRIDAYS & SATURDAYS, 8pm-9pm
THE ASSOCIATION'S COCKTAIL CLASSES offer cocktail enthusiasts an opportunity to delve deeper and refine their knowledge in the world of craft cocktails. Classes explore bar basics, tools and techniques as well as individual spirits, their history and use in classic and contemporary cocktails.
Circa 93's head bartender, Larry Clement, hosts the 1-hour classes every Thursday 9pm-10pm, Friday & Saturday from 8:00pm – 9:00pm, with each class focused on different cocktail recipes and topics.
PRIVATE GROUP CLASSES Private custom group cocktail classes can be booked or reserved in advance for groups. Private custom group cocktail class pricing varies depending on the dates, times, beverage package and size of the group. To book a private group cocktail class or for more information, please email Farah at [email protected].

~ • ~
PRICING
Eventbrite Cocktail Classes are $25 per person (Thursday classes) and $45 per person (Fridays & Saturdays) and include:
• 1 Hour PRIVATE cocktail class
• Tasting of 3-4 craft cocktails throughout the class
~ • ~
IMPORTANT GUIDELINES
For optimized enjoyment, we limit classes to 25 seats.
Registration is required for participation.
Must be 21+ to attend.
Late arrivals are disruptive, therefore a courtesy of 5 minutes will be honored before closing doors.
Tickets are non-refundable, not interchangeable and not swapable for different dates.
For additional inquiries, please email [email protected]
TICKETS
THURSDAY CLASSES – http://communitycocktailclasses.eventbrite.com
FRIDAY & SATURDAY CLASSES – http://lacocktailclasses.eventbrite.com
CLASS SCHEDULE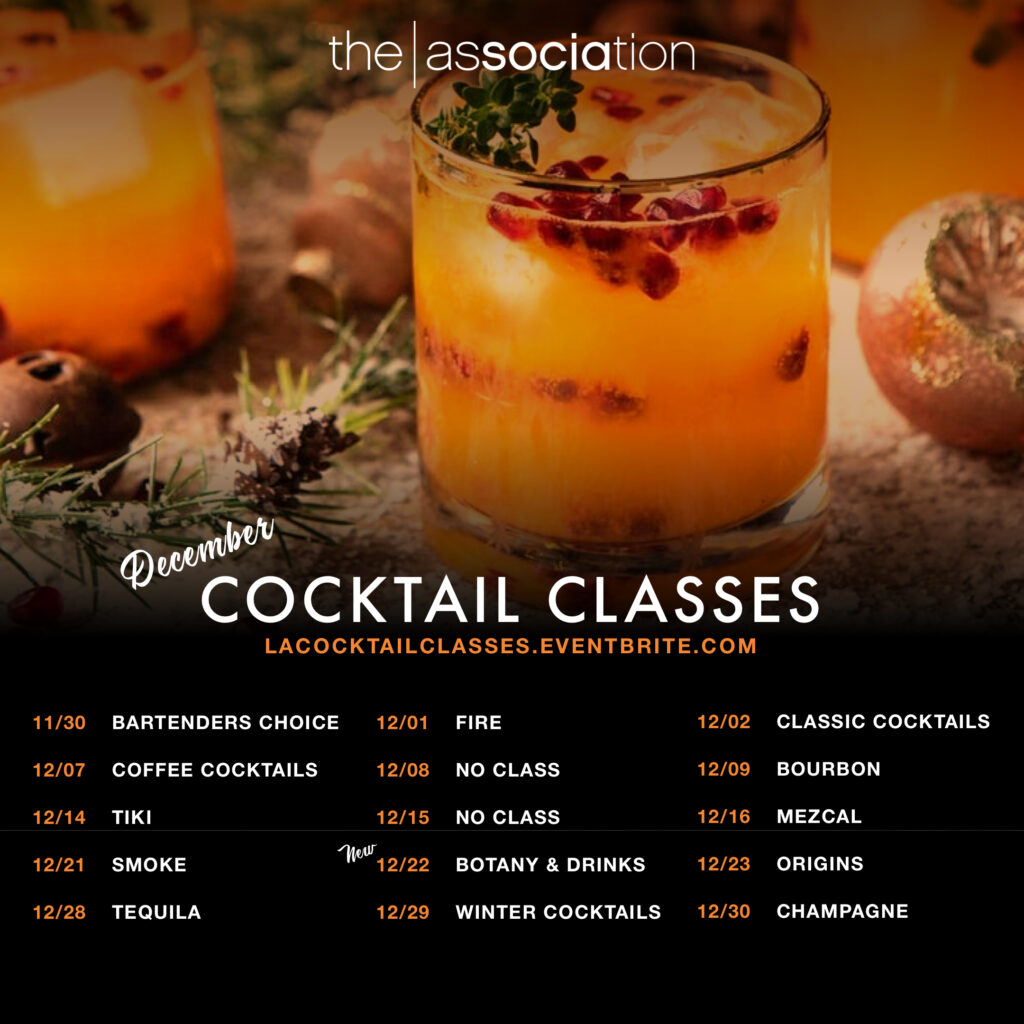 MASTER CLASS BY ASSOCIATION (New) – The Master Class is designed to put guests behind the bar to learn first hand how to mix, shake and build cocktails. Get behind our bar and enjoy a true bartending experience.
NEXT DATE:
SATURDAY 12/16/23
5PM-7PM