CLASS BY ASSOCIATION offers cocktail enthusiasts an opportunity to delve deeper and refine their knowledge. Classes explore bar basics, tools and techniques as well as individual spirits, their history and use in classic and contemporary cocktails.
The Association's head bartender, Scott Cushman, hosts the 45 minute classes every Friday & Saturday from 8:00pm – 9:00pm, with each class focused on different levels of expertise and topics. Saturday classes delve deeper into topics already covered in previous classes (aka: for the true spirit nerd!); Friday classes are our "basics" class. That said, you are not required to attend the classes in any particular order and both are offered in a way that everyone can follow along.
PRIVATE GROUP CLASSES Private custom group cocktail classes can be booked or reserved in advance for groups of 12 or more any day. Private custom group cocktail class pricing varies depending on the dates, times, beverage package and size of the group. To book a private group cocktail class or for more information, please email Farah at farah@circa93.com.

~ • ~
Classes are $20 per person and include:
• 45 Minute PRIVATE cocktail class
• Tasting of 3-4 craft cocktails throughout the class
~ • ~
IMPORTANT GUIDELINES
For optimized enjoyment, we limit classes to 16 seats.
Registration is required for participation.
Must be 21+ to attend.
Late arrivals are disruptive, therefore a courtesy of 5 minutes will be honored before closing doors.
Tickets are non-refundable, not interchangeable and not swapable for different dates.
For additional inquiries, please email farah@theassociation-la.com.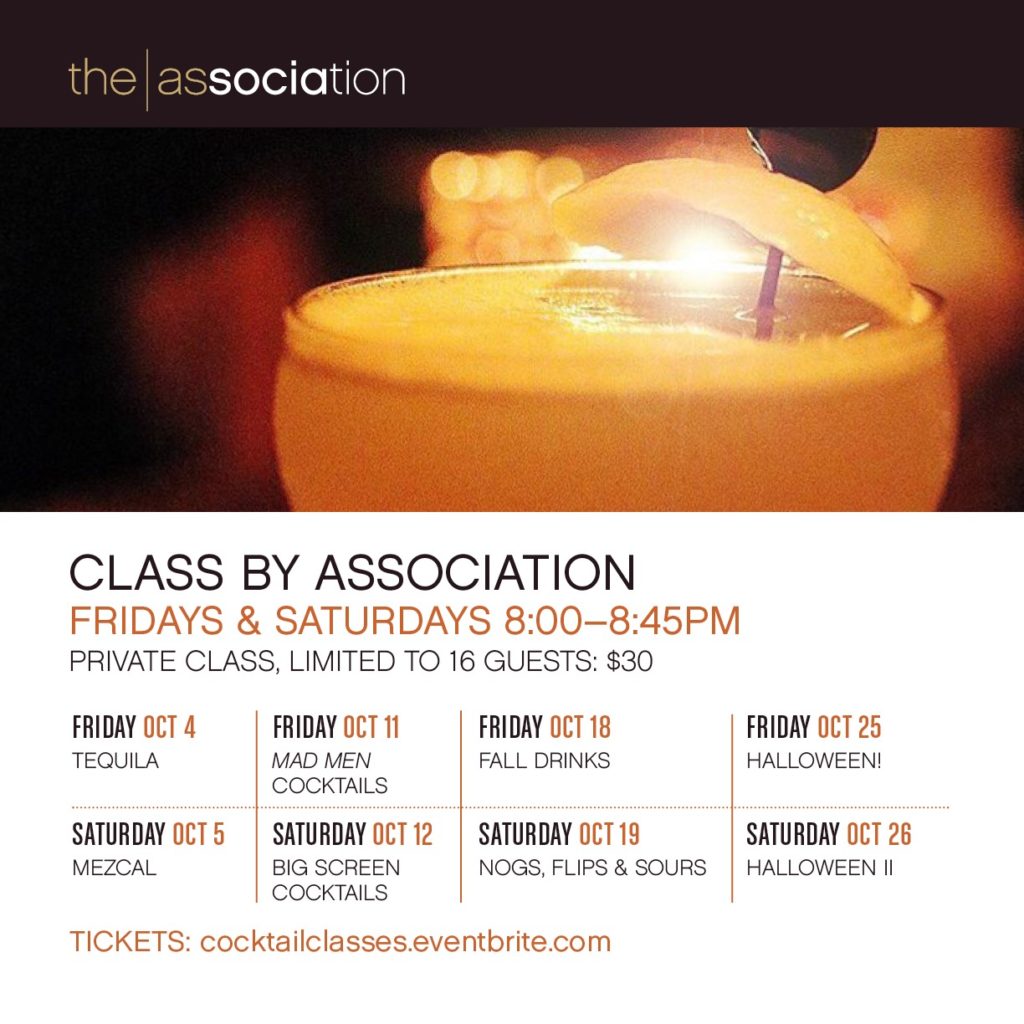 CLASS SCHEDULE
8/16: IBA UNFORGETTABLES
The IBA (International Bartenders Association) is the end all be all of Cocktails. If a cocktail makes their list, it has truly made it, though not all are famous. In this class we will look deep on this list and introduce you to the Forgotten Unforgettable.
8/17: NEW CLASSICS
Some Cocktails are destined for greatness. this class wil cover those that are too new for the IBA, but too good to not be known by every drinker. Lets discuss.
8/23: ADVANCED TECHNIQUES (FAT WASHING)
Ever wanted know how to infuse bacon into everything? Well… Here's your class you weirdo. This class will be an advanced one meant to teach how to Fat wash booze
8/24: ADVANCED TECHNIQUES (CLARIFICATION)
Do you love drinks but hate colors? this is the class for you. We will go through the process of making crystal clear cocktails (we will provide the centrifuge)
8/30: SOURS
One branch of cocktail-dom, the sour is when we add juice to balance out a cocktail. Come try these sometimes sour sometimes sweet but always delicious cocktails.
8/31: AROMATICS
One branch of cocktail-dom, the aromatic is made when the bitterness of a cocktail is used to balance out a cocktail. Come try these sometimes strong sometimes fruity but always delicious cocktails.